TOYS FOR TOTS PANCAKE BREAKFAST
Porsche of San Antonio customers, employees, friends and family were very generous during our Toys for Tots Pancake Breakfast on December 15, 2018. Our donation boxes were filled and over-flowing with the amazing toys they donated during our Pancake Breakfast to benefit the local Marine Corps Toys for Tots program. A huge thank you to everyone who participated.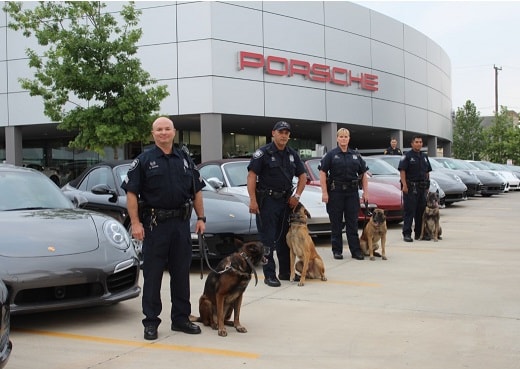 PORSCHE PAWS FOR POLICE
Porsche of San Antonio supports the San Antonio Police Department K-9 Unit by organizing fundraisers to help purchase and train carefully selected dogs to perform the complicated tasks that police dogs are required to accomplish.
Porsche of San Antonio's customers and employees have raised thousands of dollars to help purchase, train and care for Justice Guenther, Captain Porsche ("Caps") and Jack.
These faithful canines put their lives on the line every day to serve and protect the citizens of San Antonio. What an honor it is for Porsche of San Antonio to help with the purchase and training of these very special and unique police officers.
Hours
Monday

9:00 AM - 7:00 PM

Tuesday

9:00 AM - 7:00 PM

Wednesday

9:00 AM - 7:00 PM

Thursday

9:00 AM - 7:00 PM

Friday

9:00 AM - 7:00 PM

Saturday

9:00 AM - 6:00 PM

Sunday

Closed
See All Department Hours
Dealership Hours
Monday

9:00 AM - 7:00 PM

Tuesday

9:00 AM - 7:00 PM

Wednesday

9:00 AM - 7:00 PM

Thursday

9:00 AM - 7:00 PM

Friday

9:00 AM - 7:00 PM

Saturday

9:00 AM - 6:00 PM

Sunday

Closed
Parts Dept. Hours
Monday

7:00 AM - 6:00 PM

Tuesday

7:00 AM - 6:00 PM

Wednesday

7:00 AM - 6:00 PM

Thursday

7:00 AM - 6:00 PM

Friday

7:00 AM - 6:00 PM

Saturday

9:00 AM - 5:00 PM

Sunday

Closed
Service Dept. Hours
Monday

7:00 AM - 6:00 PM

Tuesday

7:00 AM - 6:00 PM

Wednesday

7:00 AM - 6:00 PM

Thursday

7:00 AM - 6:00 PM

Friday

7:00 AM - 6:00 PM

Saturday

9:00 AM - 5:00 PM

Sunday

Closed
Hours & Directions
Get Directions