Sports Car For Five.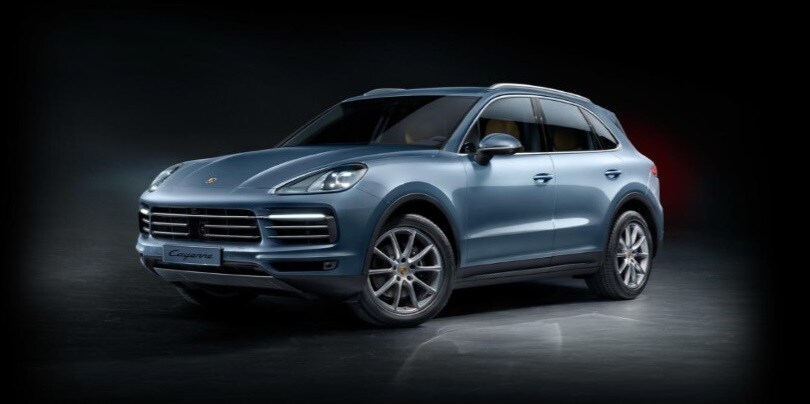 The new 2019 Cayenne makes the Porsche experience even more fascinating and diverse and yet remains what is has always been: a genuine sports car.
Five doors that are open to any adventure.
A new, dynamic design and a new generation of efficient, turbocharged engines.
Outstanding digital connectivity that brings the whole world into the cockpit.
Versatility, quality and new cutting-edge driver assistance systems offer both driver and passengers extraordinary comfort.
A range of new, helpful services and smartphone apps that simplify your life in a variety of ways.
The customary identifying features are there to be seen. The strongly emphasized front panels. The long, downward sloping hood with its power dome. The characteristic three-piece air intakes, which are even larger and more dominant.
The Cayenne generation of engines have been redeveloped completely from scratch and they now offer even greater power and torque.
The rear seats, like the front seats, are designed to be either particularly comfortable or especially sporty and, therefore, also feature elevated side bolsters.
Now even more flexible, the seats can be folded down in the ratio 40:20:40 and offer 6.3 inches of front/rear adjustment and boast 10 adjustment positions for the backrest angle (to 29 degrees).
Depending on the model, the trunk has a resulting capacity of between 26.3 cu ft and a maximum of 60.4 cu ft.
The Cayenne has numerous assistance systems that provide help and support, identify dangers and issue timely warnings.
The Burmester, BOSE and Sound Package Plus sound systems allow you to enjoy the best audio experience in all five seats.
We offer a wide range of personalization options from a single alteration to extensive modifications.
Call or visit Porsche of San Antonio to schedule your test drive or to build your new 2019 Porsche Cayenne.